Extremely Soft Water Hot Springs
The water of Kakeyu Hot Springs has often been referred to as "extremely soft". The water quality is very clear and odorless, and you will feel warmed to the core, even after leaving the bath. As a weak alkaline spring, this hot spring has a long history of therapeutic use, and even now it retains its reputation as a place for health and recuperation.
An Open-air Bath Colored by the Changing Seasons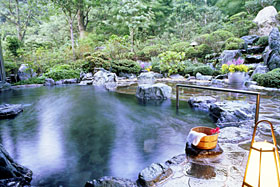 The fresh green of spring, fall folliage, snow-covered scenery…

Experience the beauty of the Japanese seasons from our outdoor bath. Soak in the negative ions and refresh both body and mind, all while listening to the chirping of the birds and taking in the view of the surrounding mountains.
Take your time and enjoy a relaxing dip with your partner, friends, or family in a reserved, private hot spring bath.


Our Spotless and Spacious Grand Bath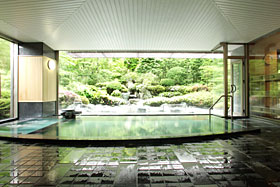 Luxuriate in a bath near a mountain stream, among the colors of the seasonal flora. Slowly sweat away your stress and feel the healing powers of the traditional Japanese style of repeated bathing. Experience it for yourself in our spotless and spacious Grand Bath.
Four Recommended Ways of Bathing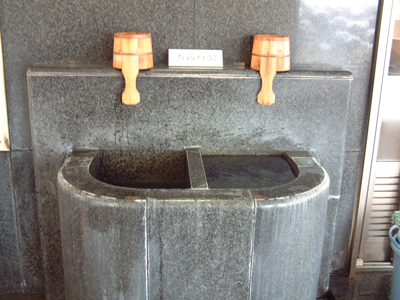 1) Preparing your body
At the entrance to our grand bath, there is a cistern of 36˚C water. Working your way up from your feet to your chest, pour this cooler water on yourself, then do the same from the other cistern of 42˚C water before soaking yourself in a bath. This is especially important for those with high blood pressure or heart conditions.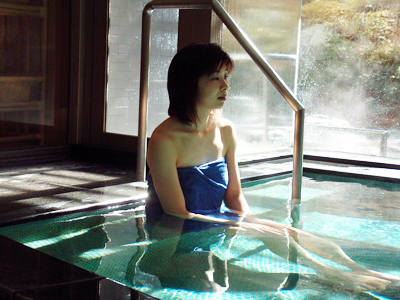 2) Partial and full-body bathing
The water in the grand bath is kept at 42˚C. The stimulation of hot water can affect blood circulation, which in turn can increase metabolism and help rejuvenate tired muscles. People with a heart condition or high blood pressure should only immerse their lower body to prevent sudden rises in blood pressure.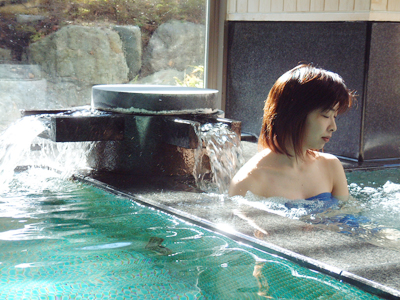 3) Enjoying water from the spout
You can sit under the spout to enjoy a light massage. Many people find relief from shoulder, back, and joint pain in this way.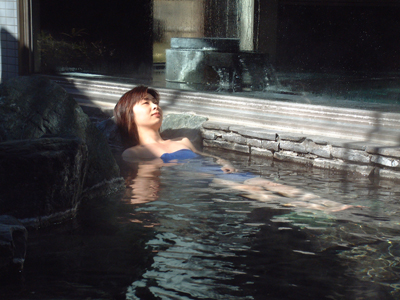 4) Reclining Bath
There is a corner of the open-air bathing area where you can recline and unwind. At 41˚C, the water is slightly cooler here, and longer soaks can have health benefits such as stress relief, mental tranquility, pain relief, and deeper sleeping by stimulating the parasympathetic nervous system.
Grand Bath and Open-air Bath Information
●Hours of Operation
Open 24 hours, except for the following cleaning times

●Cleaning Times
・11:30 - 13:00
(Men and Women's Grand Baths and Open-air Bathing Areas)
・00:30 - 01:00
(Women's Grand Bath and Open-air Bathing Area)
■Kakeyu Hot Spring Source
Spring Type
Simple hot spring (weak alkaline hypotonic high-temperature hot spring)
Source Temperature
46˚C
Service Temperature: Grand Bath 42˚C, Open-air Bath 41˚C
Therapeutic Properties
May relieve such conditions as high blood pressure, arteriosclerosis, after the effects of cerebral strokes, rheumatoid arthritis, nerve pain, movement disorder, and fatigue, and drinking the water can help alleviate constipation and intestinal disorders, and work as cholagogue.
Hot Spring Indoor Pool and Jacuzzi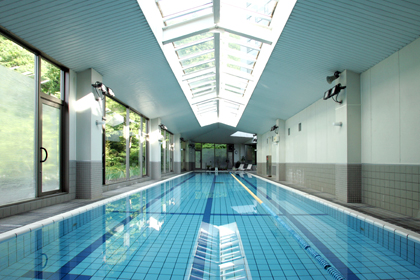 Guests staying at the hotel are welcome to use the indoor hot spring pool free of charge. Please bring your bathing suit, and enjoy our separate swimming and walking areas.
* Guests are also required to wear a bathing suit in the Jacuzzi.

Kakeyu Hot Springs' 400-Year History and Health Benefits
Known as therapeutic hot springs with medicinal benefits, Kakeyu Hot Springs has prospered since the 17th century. The Saito Hotel (formerly the Saito Ryokan) has operated as an inn in this area since the Edo era. These hot springs also have a hospital and a therapeutic exercise facility, giving rise to its reputation as a "Village of Health".

---