We highly recommend our new style of modern hot spring therapy!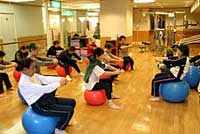 Since ancient times, Japan has had a culture of 'Toji', or hot spring therapy, where people with injuries or sicknesses would spend time at a hot spring area to recuperate. Recently, we have been focused on a modern version of 'Toji', attaining health through both the mind and the body.
The Saito Hotel has developed a modern version of Kakeyu Hot Spring's 1,200-year history of hot spring therapy.
In 1993, we came to understand the importance of "Developing Health in the Mind and Body".
At the time of dismantling the old inn that had stood since the early 20th century, and planning to construct a new hotel, we asked ourselves "Can we update the older styles of hot spring therapy into something new?"
From ancient times, traditional hot spring therapy consisted of staying at an inn, bathing, and cooking for oneself.
Our new approach is not just hot spring bathing, but also swimming, using a gym, and developing both the mind and body in a spotless environment. That is the goal that has led us to become the hotel you see today.
So whether for hot spring therapy or just for relaxing in a hot spring, we want to assist you in creating a healthy and happy lifestyle for yourself.
That is our sincere hope
---